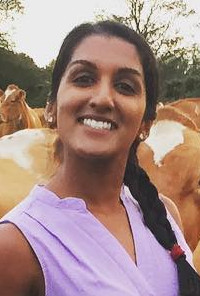 DR DINI HAPUKOTUWA
BVsc
Dini graduated from the University of Sydney in 2015. Since graduating she worked in beef mixed practice in Oberon, New South Wales, and then transitioned to dairy practice in Kyabram in Northern Victoria. She then ventured overseas to the United Kingdom where she worked as a lecturer in Livestock Health and Medicine at the University of Liverpool. Dini has recently returned to Australia to take up a residency in dairy cattle medicine.
Dini is very passionate about dairy cattle and has a special interest in Mastitis after completing her Countdown Milk Quality training in 2018. She also shares a passion for calf health, cattle surgery and herd health and is keen to find sustainable ways to maximise production on dairy farms. She is very excited to learn from renowned specialists at the University and get involved in cutting-edge research to improve mastitis decision-making. Dini also intends to sit her memberships and then fellowships in dairy cattle medicine.
In her spare time, Dini enjoys relaxing on the beach, going on hikes, road trips and travelling to new places.