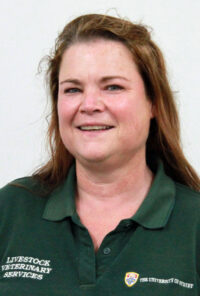 DR VIRGINIA (Jennie) MOHLER
BS, BVSc, BSc(Vet Research), MANZCVS (Dairy Medicine), PhD
Senior Veterinary Registrar : Lecturer Large Animal Health and Production
Jennie is originally from Northern California; her interest in livestock originates from family beef and dairy operations. Jennie's family own a 30,000 cow dairy operation in Southern Idaho which inspired her to undertake a veterinary degree. Jennie has an undergraduate degree in Animal Health and Production from U.C. Davis (1998) and received her Veterinary Degree from the University of Sydney in 2005. Prior to embarking on a veterinary career Jennie worked in the Biotechnology Industry in the Bay Area of California as a research associate and laboratory animal manager where she developed murine models of sepsis and endoxemia for determining the efficacy of novel protein compounds and experimental drugs.
Jennie completed her PhD in 2013 at the University of Sydney, which evaluated the effectiveness of a modified live salmonella vaccine in cattle and sheep. In 2010 Jennie passed her Australian and New Zealand College of Veterinary Scientist membership exams in dairy cattle medicine and has been active member of the Cattle Chapter ever since.
In her spare time Jennie enjoys traveling, cooking, quilting, action movies, spoiling her Australian Shepherd and volunteering at the Camden Show.